Art(c)Someone Else
Mikail Slovinski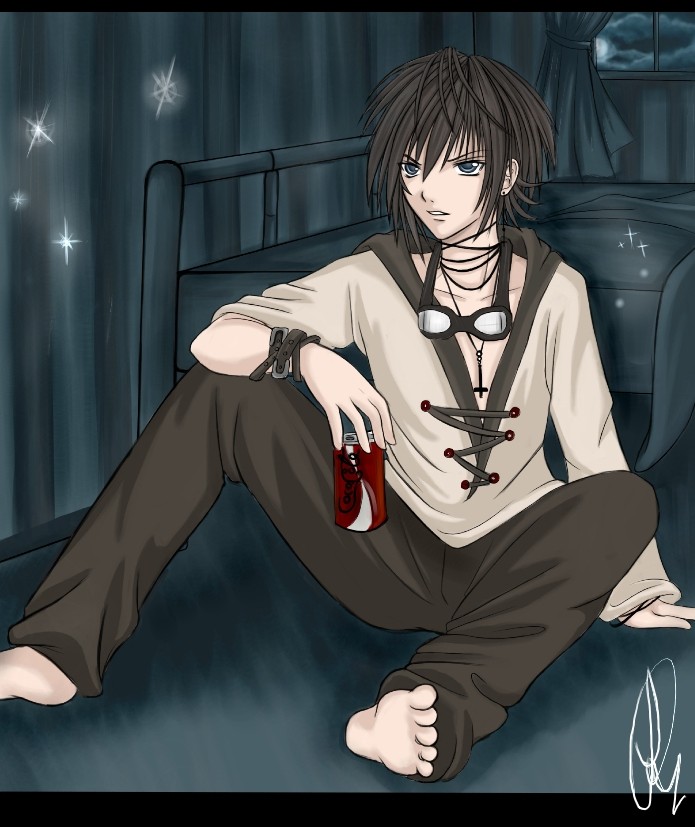 The pilots voice went over the intercom, but Mikail hardly noticed it. He had been on planes and in airports for what felt like a whole twenty-four hours. Usually he tried to at least doze on the flight, but he didn't feel up to it this time. This was his final plane before he would get to America.
Though he had been born in America, he had grown up in Finland and Russia with his mother. He had attended a Russian school, but lived in a house on Finish soil. His mother had been the only one he had lived with, though his father and his father's friend visited often, almost once a month.
Because of his mother's job change and his age, his parents thought that it would be good for him to go to America and learn for a bit. He was eager to learn more, but worried as well. What would America be like? Would he have trouble making friends? He was so eager to find out, but hesitant from fear of rejection.
The plane landed soon and then he exited with the rest of the passengers. No sooner had he found his bags than his father and his father's friend found him.
"Mikail!" his father called before hugging him tight. Mikail hugged his father back and clung to him for only a moment longer than a quick embrace before free himself.
Smiling at his father, Mikail couldn't express how happy he was to see his father, so he turned to an easier target, Dan. Offering his hand, Mikail said, "Nice to see you again Dan."
"Nice to see you too, Mikail. You've grown just in the past month, I think," Dan said, patting Mikail on the head. Laughing, the easy going male told him, "We should get to the house. You look dead on your feet, so we'll get you home and fed."
His father wrapped an arm around Dan and smiled at Mikail. In a bracing tone, he told him, "I know you'll want a chance to relax, but we figured that getting you straight into school would help you adjust and keep you from missing Nadia too much."
"I don't want to relax. Getting straight into school would be best , yeah," Mikail answered, turning his eyes away from the two males. They were always like this, touching and holding unneeded. It didn't upset Mikail, but it did make him uncomfortable.
The three talked about Russian and schooling while they went to the car and drove back to the cute, one story house. Mikail was directed to a room that was shockingly perfect for him. The walls were painted black and heavy metal posters covered one wall. The bed and desk were on one wall and there was a laptop with a tablet on top of it on the desk.
"A welcome gift," Dan said when Mikail asked about it over dinner.
"That reminds me of other welcomes," his father said suddenly. Smiling at Mikail, he told him, "I have been talking to a friend of mine and he and I agreed that it would be best if you had someone to help you adjust. I don't want you to just lock yourself away in there drawing, so he agreed to get his son to show you around and help you get used to it here."
Laughing, Mikail confessed, "I'm not sure if I should say thank you or be angry about that."
Both of the older males laughed at that and the meal continued at an easy pace, with talk of his new school and what America was like. It was surprisingly similar to their visits in Russia, just a different house and his mother wasn't there to constantly ask about things he didn't quite understand.
However, Mikail was worrying about what this new person would be like and whether or not they would get along. If he agreed to hang out with someone because of his father, it was unlikely that he would just quit because they didn't get along. At least, that was how the males he knew back home.
After dinner, Mikail showered and then went to bed. He awoke early, his schedule still on the old schedule. However, he managed to roll over and get a few more hours of sleep. When he awoke the second time, light was starting to stain the sky and he rose and dressed calmly before checking the time.
Already, it was seven. Back home…no, but back in Russia it was already past noon. The thought was more than a little startling.
"Mikail, time to be u-oh! You already are!" Dan said with a bright smile. Walking in the room, he eyed the uniform that Mikail had done, heavy black, cotton pants and a white shirt with a jacket over his arm. Shaking his head, he told Mikail, "Andrey, your father, is already at work, so it will just be me and you for breakfast what do you want?"
"Toast, please," Mikail answered.
Dan looked like he wanted to say something against it, but he didn't and in the end, Mikail managed to leave with his toast still in hand. He was hurried as he went down the street. A few others were already out, walking down the road and talking loudly. Snippets of their English reached his ears and a smile tugged at his lips. Lord, no one would understand his accent.
Reaching the gates of the school, he stopped and looked around. Honestly, he had no idea what his companion was supposed to look like, but he hoped that he would notice him before he had to enter the school. He honestly had no clue what he was supposed to do. His father had mentioned and office or something like that, but he had no idea where to find it.
This was already starting to feel like it was going to be a bad day.